Witches...Bats...Ghosts... OH MY!
The caldrons are brewing, the brooms are flight ready, and the ghosts are perfecting their "BOO!" At Shear Madness this year we are celebrating Halloween in the best way with some spooky events! Check out the haunted salon near you below to see what is going on there! Don't get too scared!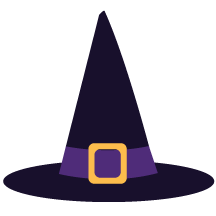 Locations & Details for a Salon Near You!
Iowa
For the 8th year in a row, Shear Madness Haircuts For Kids is excited and proud to sponsor Night Eyes
at the

Blank Park Zoo
! Like everything else in 2020, it will look a little different and capacity will be controlled with timed-tickets...but still

LOTS OF FUN

for kids and families!
Night Eyes dates and times include:
Wed, Oct 14 5-9p (Blank Park Zoo Members only)
Thur, Oct 15 5-9p
Fri, Oct 16 5-9p
Sat, Oct 17 5-9p
Sun, Oct 18 5-9p
Thur, Oct 22 5-9p
Fri, Oct 23 5-9p
Sat, Oct 24 5-9p
Sun, Oct 25 5-9p
Timed-tickets for Night Eyes can be purchased through the Blank Park Zoo:
Member Rate: $5
Non-member Rate: $6
It is time for dazzling lights, festive delights and merry-not-scary Halloween nights. Instead of a candy-filled, trick-or-treating experience at the Zoo for Halloween, families can participate in socially distanced costume character photo opportunities, an outstanding array of themed-displays and dazzling lights, and a Fun Zone, where all activities encourage social distancing and are cleaned and sanitized.
Employees will also be dressing up in costumes on 10/24 & 10/31
Olathe
Call the store for more details
Missouri
Albuquerque
New York
We will be doing free temporary hair color (washes out) from Monday 19th-31st
We will be doing free temporary hair color (washes out) from Monday 19th-31st
Texas
Call the store for more details
Call the store for more details