Becoming a Shear Madness Owner is Easier Than You Think!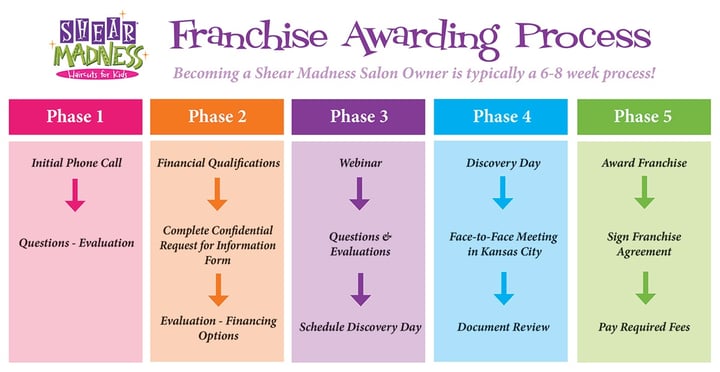 If you are ready to join our family of award winning franchisees, just follow the steps below:
Initial Phone Call

-
This introductory call will allow us get to know each other and discuss
the area that you are interested in - call Jim Otto direct at (913) 706-
3753.
Financial Qualifications

-
Fill out our Confidential Request for Information form (CRI
form). We are required to have this form on file and it will help
us determine what type of financing,
if any, may be right for you.
Once we determine that you have the financial means to
proceed with
the process, you may request our Financial
Disclosure Document (FDD).
Webinar

-
We highly recommend that you take our webinar that explains all about our
award
winning concept. It will answer lots of questions
including what type of
build out, training and the kinds of ongoing support that we offer.
Discovery Day

-
An important part of your due diligence process is coming to Discovery
Day.
Discovery Day is a great way for us to meet each other and find out
if we are a good match for
each other. Your success is extremely
important to us and so is the success of our brand! If we feel
we are a great match - you will be offered the chance to own a Shear Madness Haircuts for Kids
Awarding the Franchise

-
Congratulations! You have been awarded a Shear Madness
Haircuts
for Kids Franchise. Once you have signed the franchise
agreement and paid the Franchisee Fee
you are ready to get
started, and we will be with you every step of the way!