Becoming a Shear Madness Owner is Easier Than You Think!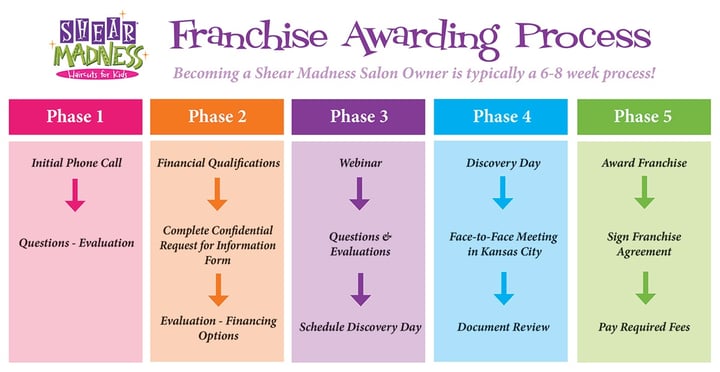 If you are ready to join our family of award-winning franchisees, just follow the steps below:
Initial Phone Call

-
This introductory call will allow us get to know each other and discuss
the area that you are interested in - call Jim Otto direct at (913) 706-
3753.
Financial Qualifications

-
Fill out our Confidential Request for Information form (CRI form). We are required to have this form on file and it will help
us determine what type of financing,
if any, may be right for you.
Once we determine that you have the financial means to
proceed with
the process, you may request our Financial
Disclosure Document (FDD).
Webinar

-
We highly recommend that you take our webinar that explains all about our award-winning
concept. It will answer lots of questions
including what type of
build out, training, and the kinds of ongoing support that we offer.
Discovery Day

-
An important part of your due diligence process is coming to Discovery
Day.
Discovery Day is a great way for us to meet each other and find out
if we are a good match for
each other. Your success is extremely
important to us and so is the success of our brand! If we feel
we are a great match - you will be offered the chance to own a Shear Madness Haircuts for Kids
franchise!
Awarding the Franchise

-
Congratulations! You have been awarded a Shear Madness
Haircuts
for Kids Franchise. Once you have signed the franchise
agreement and paid the Franchisee Fee
you are ready to get
started, and we will be with you every step of the way!
How to finance your Shear Madness Haircuts for Kids salon
There are many ways to finance your Shear Madness Haircuts for Kids salons, including speaking
with our own financing officer about the many different programs that we offer! You should research
your options carefully before deciding on a strategy. Talk with us about your options and what you
are considering, as we can often recommend programs that you may not even know exist and may
open up new avenues of financing for you.
Cash - Liquid or semi-liquid assets. Financing with this option will give you the quickest way to get to break even because you will not be paying back loans in the form of interest payments. Be sure to weigh the "opportunity cost" of tying up your capital and compare that to the "hard cost" of another type of financing.
Home Equity Line of Credit - The fastest, easiest and cheapest way to borrow money is to set up a home equity line of credit at a bank. This option will only work if you have sufficient equity in your home to secure the loan. The International Franchise Association (IFA) says that 60% of franchises are financed this way.
Bank Loan - Traditional "commercial bank loans" are popular if you have a relationship with a bank and a good track record of repayment, then this could be a good option. Banks will typically want lots of collateral to back the loan in case you default.
Other - We dive into these three financing options as well as other options in our complete Financing Options pdf. Fill out the form below to receive our complete financing options document!
Submit the form below to receive two documents:
Item 7 "Initial Investment Fee"
&
Financing Options