Book NOW for Back to School! In just a few short weeks, kids everywhere will be heading back to school! Are you ready for the latest styles? With our great stylists and happy, helpful staff, Shear Madness Haircuts for Kids can help your kids look and feel their very best for a new school year with cool new hairstyles, awesome hair care products, jewelry, a fantastic bow selection and so much more. Appointments aren't required, but you'll want to be sure to book early, as appointments always go FAST at this time of year! See you soon!


Did you KNOW??? When it comes to Natural Hair Products, we carry several items from several great companies, like Original Sprout's organic shampoos. From baby to any age, Original Sprout is a natural, organic, vegan hair care option, with bath and styling products for the entire family! Also, Babo Botanicals are made with a combination of pure plant actives, naturally derived, certified organic and all-natural ingredients! Check them out by visiting us today - look for a location nearest you right here!

Our Awesome Parties are so much FUN! Kids LOVE our spectacular Birthday Parties! For ages 4 & up, your birthday girl and guests adorn super cute spa robes, all while our Pink Starlets give them sparkly hairdos, mini manicures, glittery makeup and more! It's so much fun! Plus, if you book your Birthday party (birthday can be anytime) during August, Birthday girl gets to pick out a complimentary Hair Bow for FREE, with coupon! Some of our locations also have cool superhero parties for boys and girls too! See our website for more details! (at participating locations)
Best in Child Hair Care for 2018!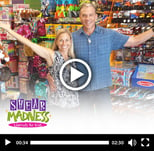 Don't Miss THIS! Are you or someone you know interested in learning about what it's like to own a Shear Madness Haircuts for Kids? If so, just click the graphic at left to view a testimony from a Shear Madness Franchisee! Afterwards, you might want to click on Franchise Opportunities and download our totally free and super useful booklet on franchising. Inside, it contains photos and other helpful information on the franchise experience. Plus, if you're interested in talking with us about the exciting adventures in owning a kids hair salon, just give us a call at 1-888-98 GONE MAD! We look forward to hearing from you soon!
Summer Fun and Super Savings!

The FUN never Stop HERE!!! Did you know that RIGHT NOW on Facebook, we have around 38,000 followers? WOW! That's because everyone loves our funny kids jokes, cool photos sent in by customers, great feedback, awesome craft ideas and so much more! And don't forget that if you'd like to share some cool photos of your Shear Madness experience, just click Facebook, Pinterest, Instagram, Tumblr, Google+ or Twitter to get started and send us a message or tag us!

Super Summer Savings! Do you know a special girl with a birthday coming up? If so, here's a GREAT deal that you won't want to miss out on over on our coupon page! At participating locations this August (with coupon) you can Buy a Bow and get a Bling for 99 cents! Plus, there's 15% off any Kid's Hair Styling Product! Don't miss out! What are you waiting for!? Head over to our coupon page for this and other sizzling savings!

Amazing Summer Kids Crafts!
Super Easy and Super Cool Kids Crafts! It won't be long, and the kids will be heading off to school - but with our Crafts for Kids section on Pinterest, you can spend a little quality time making some cool stuff with them before they do! For example, make a paper-plate alien spaceship (with clear alien dome), a paper bag mouse puppet, a funny pop-up weasel, a school bus made out of felt, a pool-noodle racing game, an interactive yarn jellyfish (as seen at left) and a really awesome lighthouse made out of plastic cups! Have a great rest of your summer!
Shear Madness Haircuts for Kids - Where Every Child Matters!
Would you like to learn more about kids haircut places, or kids haircuts near me? Check out our website at: shearmadnesskids.com! If you'd like to sign up for our Monthly Newsletter, click HERE!