Coupons and October Special Sales!

Great October Coupons: Want to save a little cash on that must-have item you've had your eye on at your local Shear Madness? Or maybe you'd like to do a little shopping for an upcoming birthday or Halloween Party? Check out our coupon page and find that great deal you've been waiting for!
Light Up Toys: Add a little light in your life with our 20% off Light Up Toy special! And who knows? Maybe you'll find a perfect attention-getting light up toy for your Halloween costume this year!
Colored Hair Chalk: Speaking of Halloween and the many events that take place during this time of year, check out our Color Hair Chalk 10% off special. Add some color to your hair, and "wow" everyone with your madtastic sense of style!
Halloween Parades and More!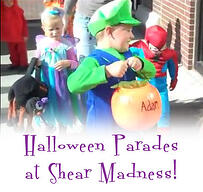 Halloween at Shear Madness! There's a lot going on at your local Shear Madness through-out the month of October, so don't miss out! From the fun and spooktacular Halloween decorations, to Halloween Parades and other awesome activities taking place on October 25, you won't want to miss out on what we've got planned just for you! Stop by (we'd love to see you!) or call your local Shear Madness to learn when our Halloween events are planned. Click here for a list of locations and contact info, and click here for a video of a Shear Madness Halloween Parade!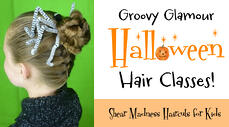 Groovy Glamour Halloween Hair Classes: Check with your local Shear Madness Haircuts for Kids to see if they are offering Groovy Glamour Halloween Hair Classes for the month of October! If so, you'll want to come in and learn how to create spooktacular Halloween themed hair styles so you can make your kids look awesome for Halloween! Book your appointment and secure a spot for these fun classes for only $35.00. You'll also save 10% all purchases the day of the class!
October News at Shear Madness!

Shear Madness is a Great Place for Parties! Did you know that your local Shear Madness is one of the coolest party places in town? We've got Spa Parties, SuperHero Parties and Frozen Themed Parties - all ready to rock for your child's special occasion! These extremely popular themed parties are a big hit with kids, and are sure to create a special memory for years to come. To find out how to get your party started, click here for a list of locations and contact information!

29,000 "Likes" on Facebook : Our Facebook site recently crossed a milestone with 29,000 "Likes"! With Free Haircut Friday events, important news, jokes for kids and much more, you won't want to miss out on the fun! We're also sharing the good times through Instagram and Twitter too. And of course, you'll want to check out some of our favorite Shear Madness pins this month on Pinterest!
Franchising Opportunities

Are you or someone you know interested in opening a Shear Madness? Or maybe you have a few questions about what a franchise is, and what makes owning Shear Madness Franchise so special? Well, now is the time to find out more information. Check out the many helpful resources on our franchise website by clicking: Franchise Opportunities
We're having a great day at Shear Madness, you have one too!