Coupons and February Special Sales!

Valentine's Day Specials! If you're looking for a unique way to show your love this Valentine's Day, a Daddy Daughter Makeover or Mother Son Fun Valentine's Package might be just the gift! This special package is only $29.95! This includes one Diva Day, a 4x6 photo, a sweetheart ring and a membership to the Diva Club! There's also an option of adding a haircut for Dad for a total of $39.95. But hurry - this offer ends February 28th (specials may vary by store)!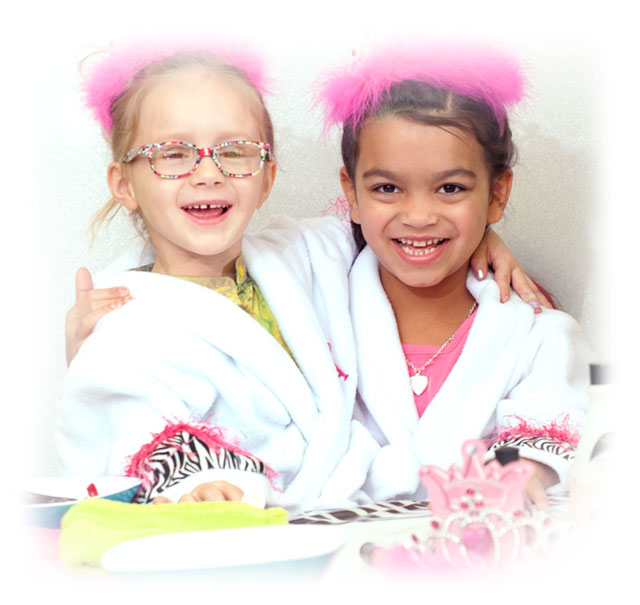 Diva Day & Mad Manes Gift Certificates! A great Valentines gift idea, our Diva Day and Mad Manes (for the boys) gift certificates are a perfect surprise for this special holiday! These certificates include $10 of purchases from our Toy & Bow Boutique, as well as a mini makeover (or haircut & colored stripes for the boys). So if you'd like to treat your kids to an experience they will long remember, click on Diva Day Gift Certificates!
A Bug-free Valentine's Day!

Having Lice isn't Nice! Tabby Bibbs, manager at the Lee's Summit Shear Madness Haircuts for Kids notes that, "Head lice can happen to anyone at anytime, no matter the socioeconomic status." So if you'd like a little extra insurance in keeping the creepy-crawlies away, be sure to pick up either Circle of Friends Lice Defense products or our Organic Original Sprout products at our stores. Bibbs says that, "The Miracle Detangler and Leave in Conditioner from Original Sprout helps to repel and prevent head lice - and they smell absolutely wonderful!" Read our blog post about putting a stop to head lice!
Fall in Love with a Shear Madness Franchise!

Right now, we're looking for qualified franchisees who might like to open a Shear Madness Haircuts for Kids in Tulsa, Oklahoma City, Cedar Rapids, Lincoln Nebraska and more! Interested? Check out some of our new resources available through our franchise website. From a great blog discussing the many aspects of franchising, to free downloads and more, we invite you to check out our franchise website by clicking: Franchise Opportunities
Social Media and Coupons!

Shear Madness Fun all month long! We've got free Haircut Fridays, funny jokes, awesome customer feedback and more - and it's all happening right now at our rockin' Facebook page! And if you want more Shear Madness, why not check out our constantly updated Franchise Blog, Instagram, Google+ and Twitter? And of course, don't miss out on some of our favorite Shear Madness pins this month on Pinterest!

Great Coupons! Do you love saving money? If so, then you're sure to appreciate some of the great offers available on our coupon page! Whether it's shopping for your Valentine, an upcoming birthday, or other special occasion - you're sure to find that Madtastic deal you've been waiting for at Shear Madness Haircuts for Kids!
Valentine's Crafts for Kids

Valentine's Day Crafts for Kids: Celebrate Valentine's Day with those you love by making some Valentine-themed crafts! Check out our cool Crafts for Kids section on Pinterest, and learn how to make Valentine candle holders, heart-shaped animal Valentines, paper heart garland and more! Have fun, and have a great Valentine's Day!
We're having a great day at Shear Madness, you have one too!