There is a difference between doing well and succeeding. Not every franchise is going to be the same when it comes to making that perfect formula either, but there are 3 things you can do to ensure that you are off to a good start!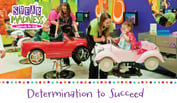 I was recently reading a Franchise Times magazine and stumbled across an article about someone who had built up several franchise systems. He had grown to where between the two he had over 700 Units! As I continued to read, it just so happened that he was a neighbor of mine in Overland Park Kansas. I connected with him on LinkedIn and was not surprised to learn that he had the one trait that EVERY single successful franchisee I have every talked to has, a Determination To Succeed. You can buy into the greatest franchise concept ever invented but without the determination to succeed it may not be enough. Some other pearls of wisdom that he shared with me.
- You may not get it right the first time
- Focus on the one thing that you can change - the customer experience
- Keep learning as you go along
Franchising is a proven business model and the amount of money spent at franchises every year is staggering. But it's still hard work, and there will be times when the only thing that will push you through and get you over the hump is that one thing that all successful franchisees have, the Determination to Succeed
Success is yours TODAY!

Shear Madness Franchising franchises our award-winning Shear Madness Haircuts for Kids salons (FranCompare™ Best in Child Hair Care 2018). We have worked with franchise stores in providing franchisee support (in order to encourage continual growth and business success), and have sometimes seen the unexpected happen! When it does, we help by identifying and helping with challenges that might arise for franchisees. Additionally, we work to present options that can help prevent these events as well. As many franchise owners may not have opened a business before, having someone who can advise them is a significant advantage of franchise ownership!
Are you interested in learning how YOU can join the Shear Madness Haircuts for Kids family and run your own successful small business? We are one of the fastest growing kids hair salons in the industry today! If you would like to learn more about this franchise opportunity or small business marketing, great marketing strategies, resources for small businesses, franchise success, how to grow your small business or how to become a successful owner of your own kids hair salon franchise business, please click below or call 1-888-98 GONE MAD
Would you like to sign up for our Monthly newsletter? If so, click HERE!