A Great Valentine's Gift! Our Daddy Daughter Makeovers or Mother Son Fun Valentine's Package makes such an awesome valentine's gift - or gift for any other special occasion! And right now, it's at a special price of only $29.95! The Daddy Daughter package includes one Diva Day and a FREE certificate with 4x6 photo. Our cool Mother Son Fun Package includes a boy's haircut with fun color (mom gets matching color in her hair) and a fun keepsake 4x6 photo! Call to schedule your appointment now (at participating locations)!

Diva Day & Mad Manes Gift Certificates! Great for birthdays, holidays, or any other fun event, our amazing Diva Day and Mad Manes gift certificates (for the boys) are a perfect surprise! These certificates include $10 of purchases from our FUN Toy & Bow Boutique, as well as a Diva Day (mini makeover) - or kids haircut & colored stripes for the boys. So if you'd like to treat your kids to an experience they will long remember, be sure to ask your local store about Diva Day & Mad Manes Gift Certificates!
Fall in Love with a Shear Madness Franchise!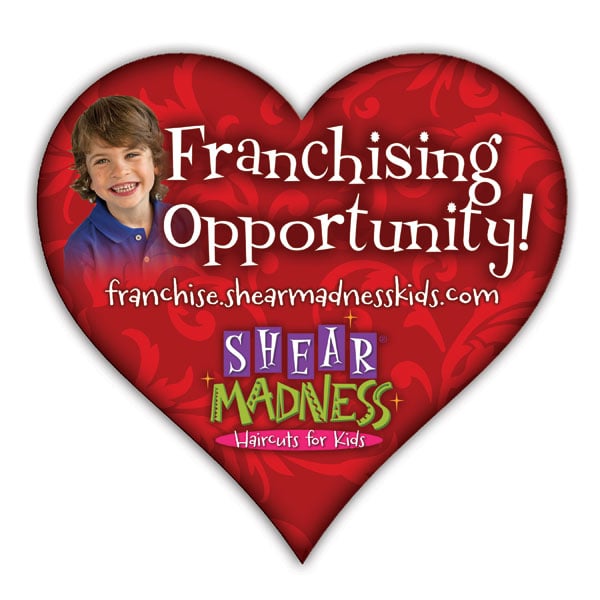 2016 was a great year for Shear Madness! We had strong revenue growth in our franchise system and concluded the year with lots of momentum going into the New Year. However, what we're most thankful for is our fantastic franchisees and how together we're building on our Core values and carrying forward our message that at Shear Madness Every Child matters. If you are looking for an opportunity to franchise with one of the fastest growing kids hair salon franchise systems around, check out our Franchise Opportunities!
Positive Social Media Fun & Great Coupons!

Positive and Fun all Month Long! Are you looking for a fun and positive place online that helps brighten your day? If so, you'll LOVE our funny jokes, awesome customer feedback and more - and it's all happening right now at our amazing Facebook page! And if you want even more Shear Madness, be sure to check out our constantly updated Franchise Blog, Instagram, Google+, Pinterest and Twitter!

Fall in Love with our Coupons! Do you LOVE saving money? If so, you'll love our great offers available on our coupon page! For example, one of our coupons is for a "Buy 2 Get 1 Free on all BOWdacious Bow Hair Bling"! WOW! So if you're out shopping for your Valentine, birthdays, or another special occasion - don't miss all those great deals you've been waiting for over at the Shear Madness Haircuts for Kids coupon page!
Valentine's Crafts for Kids

Valentine's Holiday Crafting! Don't miss our cool Crafts for Kids section on Pinterest, where you'll learn how to make a flowering heart tree (as seen at right), cute love bugs, a "bee" mine valentine decoration, handprint frames, a funny Valentine's character made from a red cup, DIY owl treat bags, candy filled valentines, fingerprint heart ornaments and much more! Have fun, and have an extra special Valentine's Day!
Shear Madness Haircuts for Kids - Where Every Child Matters!
Would you like to sign up for our Monthly newsletter? If so, click HERE!
Are you interested in learning how YOU can join the Shear Madness Haircuts for Kids family and run your own successful small business? We are one of the fastest growing kids hair salon franchise systems in the industry today! If you would like to learn more about small business marketing, great marketing strategies, resources for small businesses, how to grow your small business, or how to become a successful owner of your own kids hair salon franchise business, please click below or call 1-888-98 GONE MAD