Shear Madness Specials for November! Here at Shear Madness Haircuts for Kids, we are so thankful to YOU - our amazing customers! You all are fantastic!
Gift Giving Season is upon us, and we have some great specials for you! Buy a gift certificate for ear piercing with a diva day, you'll also get a pair of Tiny Tips earrings for FREE! Also Buy a gift certificate for a Diva Day WITH $10 in retail purchases, and you can get a BOWdacious Hairbow or Jewelry Item for FREE! Plus, don't forget about our amazing White Wednesday and Black Friday specials, which we'll be sure to let you know through an upcoming eblast! And lastly, we're gearing up to help kids in our communities by accepting donations for Toys for Tots! After you spend $50 in retails, you can receive 40% off your Toys for Tots donation! Plus, Spend $50 on anything in our store, and Shear Madness Haircuts for Kids will donate a toy to Toys for Tots! WOW! (Sales may vary by location)

Did You Know??? Our Tiny Tips earrings are perfect for kids once their piercings have healed. They are hypoallergenic, sterilized and made to a medical grade in the USA. Tiny Tips provides parents with earrings that they can trust for their children's ears after the healing period, and come in a variety of cool styles available at our participating stores! Read more about Tiny Tips right HERE! As we mentioned above in our Special November Sales section, it's a really GREAT deal to get a pair of these Tiny Tips for free with a gift certificate for a ShEAR Dazzled Diva!

Don't Forget!!! Don't forget that your local Shear Madness Haircuts for Kids will be closed on Thanksgiving Day (Thursday, Nov. 22). But we'll be back on Friday and ready to ROCK for all your great haircutting needs - along with cool toys, jewelry, hair products, madtastic accessories, parties, gift certificates (which make a great present for Christmas), ear piercing and much, much more! From all of your friends at Shear Madness Haircuts for Kids, we wish you a Happy Thanksgiving!

Shear Madness Black Friday Sales! This is one of the most exciting days of the year when it comes to finding a great deal - which is why you definitely won't want to miss out on some truly Madtastic specials at Shear Madness Haircuts for Kids (at participating locations)! Be sure to keep an eye on that e-mail inbox as we'll be sending you the details SOON on Black Friday and White Wednesday Savings! Click here for locations and contact info.
Best in Child Haircare!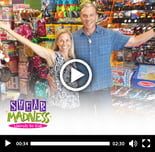 Don't Miss THIS! Are you or someone you know interested in learning about what it's like to own a Shear Madness Haircuts for Kids? If so, just click the graphic at left to view a testimony from a Shear Madness Franchisee! Afterwards, you might want to click on Franchise Opportunities and download our totally free and super useful booklet on franchising. Inside, it contains photos and other helpful information on the franchise experience. Plus, if you're interested in talking with us about the exciting adventures in owning a kids hair salon, just give us a call at 1-888-98 GONE MAD! We look forward to hearing from you soon!
Even More Madtastic News!

Your Online Destination for FUN! Do you love checking up on what's going on via social media? If so, you'll have a great time seeing what's new at Shear Madness Haircuts for Kids via our fun Facebook page, or by taking a look at some of our favorite Shear Madness pins this month on Pinterest! And you won't want to miss the cool excitement on Instagram, Tumblr, Twitter and Google+! Meanwhile, if you're looking for informative articles on franchising and how to achieve business success, don't miss our Franchise Blog!


Thanksgiving Savings! Spectacular specials only available by coupon! For example, right now two of our cool coupons is for the following: 25% Off any Pair of Tiny Tips Earrings. Or if that's not quite your thing, how about Buy 2 Die Cast Pull Back Vehicles and get a 3rd for Half Price (at participating locations). Awesome! Maybe it's time to get some of that Christmas shopping done a little early this year! For this and our other coupons, just click on coupon page!

November Crafts and More!

AMAZING Crafts for Kids! Check out our Madtastic Crafts for Kids section on Pinterest, and spend an hour or two over the holiday making a no-sew sock turkey craft (as pictured at right)! What FUN! Also, discover how to make tasty pretzel turkey bites (with candy corn), a metal dragon egg, a cute paper roll kitty cat, a cardboard nature sun catcher, awesome paper pumpkins, beautiful glitter acorns, a candy corn scarecrow and a maple leaf fall snow globe! Have a great November!
Make a Positive Difference Today!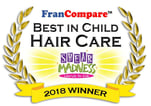 Shear Madness Franchising franchises Shear Madness Haircuts for Kids salons. We have worked with franchise stores in providing franchisee support (in order to encourage continual growth and business success), and have sometimes seen the unexpected happen! When it does, we help by identifying and helping with challenges that might arise for franchisees. Additionally, we work to present options that can help prevent these events as well. As many franchise owners may not have opened a business before, having someone who can advise them is a significant advantage of franchise ownership!
Are you interested in learning how YOU can join the Shear Madness Haircuts for Kids family and run your own successful small business? We are one of the fastest growing kids hair salons in the industry today! If you would like to learn more about this franchise opportunity or small business marketing, great marketing strategies, resources for small businesses, franchise success, how to grow your small business or how to become a successful owner of your own kids hair salon franchise business, please click below or call 1-888-98 GONE MAD!
Would you like to sign up for our Monthly newsletter? If so, click HERE!