A Flower for Mom! Remember to surprise mom with a flower for her on Saturday, May 12th at Shear Madness Haircuts for Kids! Also don't forget that our store will be closed on Mother's Day to honor our hair stylists (most of them are awesome Moms too)! Shear Madness Haircuts for Kids appreciates all our AMAZING Mothers out there! You all are great!

Honoring Soldiers and their Families! At Shear Madness Haircuts for Kids, we're offering some extremely amazing specials as a way to remember fallen soldiers and their families on Memorial Day (at participating locations). What are they? Well, just be sure to watch for our e-blast, which will have all the details about these cool and exclusive sales! If you'd like to know more, as always please click here for our locations page, and contact us today!

Get Ready for Summer! Summer will soon be here, and Shear Madness Haircuts for Kids is ready to help you look and feel your best at the pool with our great sale on summer-time hair care products. For example, you can save 20% off our great Swimmers Shampoo products - all KID SAFE and FRIENDLY! So come in before heading to the pool, and check out how to stay super cool this summer!
Help Make a Positive Difference!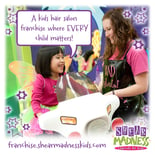 Making a Difference in the Lives of Kids and Parents! Are you or someone you know interested in a business opportunity that genuinely cares about people - as well as helping make the world a brighter place? If so, you might want to check into one of the most unique opportunities around through Shear Madness Haircuts for Kids! Just give us a call at at 1-888-98 GONE MAD, or click on Franchise Opportunities to get started (where you can find out more details, as well as download our free Shear Madness Haircuts for Kids Franchise Toolkit!)
A Shear Madness Internet Extravaganza!

We Love Having Fun Online Too! Do you love funny kids jokes, cool crafts, great photos and awesome events for kids? If so, be sure to follow us on Facebook, Instagram, Google+, Tumblr, Pinterest & Twitter for all this and more! You'll also want to check out our many madtastic updates over on our Franchise Blog, where we post helpful tips and insightful articles on growing a small business and so much more. Don't miss it!
Wow! Awesome Deals Ahead!!!

SUPER Spring-Time Savings! Check out our coupons page for amazing deals like $5 off a formal updo, $1 off a die cast pull back car or 15% off a hair care product! So now you can look and feel your best, and save a little dough while you're at it too! Plus, don't miss another cool coupon exclusively on our our coupon page (at participating locations). Have a great May!
Spring-time Crafts for Kids!

Hooray for Family Fun! It's Spring, which means it's time for barbeques, outdoor games and crafting with the kids! Don't miss our Crafts for Kids section on Pinterest, and learn how to make this beautiful jeweled suncatcher out of a music CD (as seen at left). Plus, discover how to craft a milk jug igloo, an awesome glitter sensory jar for kids, a super fun marble maze out of straws and a cardboard box, funny honey bee planter sticks, wooden spoon puppets, and so much more!
Shear Madness Haircuts for Kids - Where Every Child Matters!
Would you like to sign up for our Monthly newsletter? If so, click HERE!
Are you interested in learning how YOU can join the Shear Madness Haircuts for Kids family and run your own successful small business? We are currently looking for franchise prospects throughout the United States - and especially Tulsa, Oklahoma City, Omaha, Lincoln, Denver and St.Louis! We are one of the fastest growing kids hair salons in the industry today! If you would like to learn more about this franchise opportunity or franchise investments, great marketing strategies, resources for small businesses, how to grow your small business or how to become a successful owner of your own kids hair salon franchise business, please click below or call 1-888-98 GONE MAD