Daddy Daughter Makeover or Mother Son Fun Valentine's Packages! Our Daddy Daughter Makeover or Mother Son Fun Valentine's Packages are so much fun! The Daddy Daughter Makeover includes one Diva Day and a certificate with a 4x6 photo of the pair. There's also an option of adding a haircut for Dad as well! Meanwhile, our Mother Son Fun Package includes a boy's haircut with stripes (Mom gets matching stripes in her hair) and a special keepsake photo! Hurry, spots are filling up fast - especially since this amazing experience ends February 28th (at participating locations)!

Amazing Semi-Annual Bow-Out Sale! Yes, it's true! Our awesome collection of hairbows are now on SALE! And better yet, right now all our Christmas bows are on clearance! If you or someone you know is looking for a fun way to look amazing for the New Year, then be sure to come by and check out our stunning bow wall. We have bows in all shapes and sizes, with many different colors as well. You can even design your own bow with our fun bow accessories too! Don't miss it!

Awesome Savings for the New Year! Ring in the New Year with some madtastic savings from your favorite kids hair salon and toy boutique! For example, how does a FREE Glitter Tattoo with Haircut on Monday thru Friday sound (at participating locations)? You can get it right now all during the month of January when you head in for a haircut - but only with our coupons! Check them out right now on our our coupon page!
Hot News at Shear Madness!

Albuquerque Best of the City for the 4th Time in a Row! Albuquerque The Magazine readers once again voted the Albuquerque Shear Madness Haircuts for Kids location as The Best Place for Kids Haircuts for 2018! If you recall, our Albuquerque Shear Madness also won Best of the City in 2014, 2015 AND 2016 too - and that's super awesome! Congratulations to owner Kimberly Abeyta and her great staff! Click here to visit the web site for the Albuquerque Shear Madness Haircuts for Kids.

Heatin' things up on Social Media! With all the exciting stuff coming up in 2018 for Shear Madness Haircuts for Kids, make sure you're also in the know with everything that's going on by checking out all the fun over at our Facebook page, Franchise Blog, Instagram, Tumblr, Google+ and Twitter! And don't forget - you'll also want to take a look at some of our favorite Shear Madness pins this month on Pinterest!
Join the Fun! Open a Shear Madness in 2018!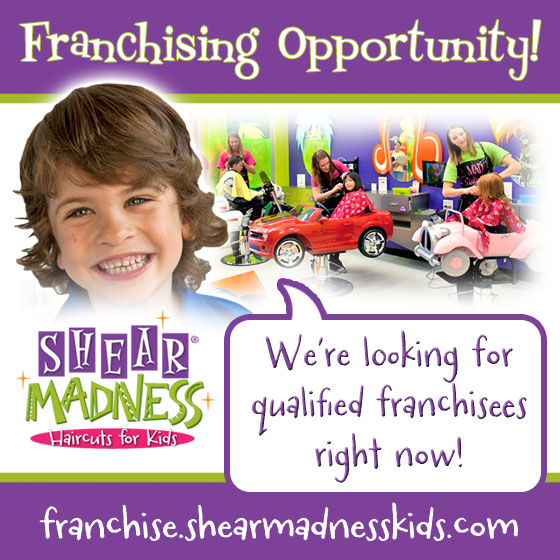 Looking for a new business opportunity for the New Year? If so, check out how you can make a positive difference in the lives of parents and their kids through owning a Shear Madness Haircuts for Kids franchise! You can find out a lot of helpful resources over at our franchise website and blog (where we have numerous articles), or by downloading our FREE franchise toolkit right here. Who knows...maybe one of these days you'll even be the proud owner of your own Shear Madness Haircuts for Kids!
Kids Crafts for the New Year!

Start a Family Craft Time Tradition! It's cold outside for a lot of our readers, so why not make something fun with your kids indoors with our great Crafts for Kids section on Pinterest! Learn how to make fun paper snakes (as pictured at left), a New Year's Eve countdown clock, party glasses out of pipe-cleaners, an amazing confetti popper, cool fireworks rings, fireworks painting for kids and so much more! From all of your friends at Shear Madness Haircuts for Kids, we wish you a very happy New Year!
Shear Madness Haircuts for Kids: Where Every Child Matters!
Would you like to sign up for our Monthly newsletter? If so, click HERE!
Are you interested in learning how YOU can join the Shear Madness Haircuts for Kids family and run your own successful small business? We are currently looking for franchise prospects throughout the United States - and especially Tulsa, Oklahoma City, Omaha, Lincoln, Denver and St.Louis! We are one of the fastest growing kids hair salons in the industry today! If you would like to learn more about this franchise opportunity or franchise investments, great marketing strategies, resources for small businesses, how to grow your small business or how to become a successful owner of your own kids hair salon franchise business, please click below or call 1-888-98 GONE MAD