AMAZING!!! Semi-Annual Bow-Out Sale! Our awesome collection of bows are on SALE right NOW! And better yet, all our Christmas bows are on clearance! If you or someone you know is looking for a fun way to look and feel your best for the New Year, then be sure to come by and check out our stunning bow wall. We have bows in all shapes and sizes, with many different colors. You can even design your own bow with our fun bow bling accessories too! Don't miss it!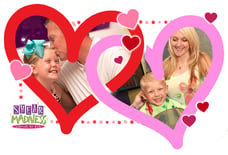 Daddy Daughter Makeover or Mother Son Fun Valentine's Packages! Our Daddy Daughter Makeover or Mother Son Fun Valentine's Packages are so much fun! The Daddy Daughter Makeover includes one Diva Day and a certificate with a keepsake photo of the pair. There's also an option of adding a haircut for Dad as well! Meanwhile, our Mother Son Fun Package includes a boy's haircut with stripes (Mom gets matching stripes in her hair) and a special keepsake photo! Hurry, spots are filling up fast - especially since this amazing experience ends February 28th (at participating locations)!

Visit us ONLINE! Don't miss out on all the exciting stuff coming up in 2019 for Shear Madness Haircuts for Kids! Make sure you're in the know by checking out all the fun over at our Facebook page, Franchise Blog, Instagram, Tumblr, Google+ and Twitter! And don't forget - you'll also want to take a look at some of our favorite Shear Madness pins this month on Pinterest! Plus, check out which of our locations currently have ONLINE BOOKING!
Red Hot Deals at Shear Madness!

Awesome Savings for the New Year! Ring in the New Year with madtastic savings! For example, how does 25% OFF a single full priced retail item valued at $10 or more or Buy 3 Melissa & Doug activity books (regularly $4.99) for $12 sound (at participating locations)? You can get these coupons now all during the month of January! Check them out right now on our our coupon page!
Franchise Opportunities for 2019!

2018 was another year of GREAT growth for Shear Madness Haircuts for Kids! We rolled out a completely new website at shearmadnesskids.com, continued to build onto the vast storehouse of blogs and other resources available for our franchisees over at our new intranet site and also recently totally recreated our Shear Madness Franchising website! Visit it to see a video testimony from a Shear Madness Franchisee, info on starting a small business, a photo gallery, and our "Cut-to-the-Chase" section where you can learn exactly what you need to become part of our family! Discover it all at Shear Madness Franchising!
Family Fun for 2019!

Start the New Year Out With a COOL Craft! Making amazing decorations and other fun stuff is always a LOT more fun when you're hanging out with family! For example, at this year's New Years family get together, why not try some of the following crafts available over at our Crafts for Kids section on Pinterest! Learn how to make a New Year's Wishing Tree (as pictured at left), Chinese paper lanterns, your very own New Year's Eve balloon drop, party hats, folded paper icicles, 3D hanging hot-air balloons and so much more! Have a great 2019!!!
Shear Madness Haircuts for Kids: Where Every Child Matters!
Grow With Us in 2019!!!

Shear Madness Franchising franchises our award-winning Shear Madness Haircuts for Kids salons (FranCompare™ Best in Child Hair Care 2018). We have worked with franchise stores in providing franchisee support (in order to encourage continual growth and business success), and have sometimes seen the unexpected happen! When it does, we help by identifying and helping with challenges that might arise for franchisees. Additionally, we work to present options that can help prevent these events as well. As many franchise owners may not have opened a business before, having someone who can advise them is a significant advantage of franchise ownership!
Are you interested in learning how YOU can join the Shear Madness Haircuts for Kids family and run your own successful small business? We are one of the fastest growing kids hair salons in the industry today! If you would like to learn more about this franchise opportunity or small business marketing, great marketing strategies, resources for small businesses, franchise success, how to grow your small business or how to become a successful owner of your own kids hair salon franchise business, please click below or call 1-888-98 GONE MAD
Would you like to sign up for our Monthly newsletter? If so, click HERE!