The idea of owning multiple stores when you buy into a franchise is appealing. So why do so many people fail at it? Here are some guidelines for economy of scale that we use in our children's salons:
Never open multiple stores at one time: Your steepest learning curve will be at your first location. If that location is successful, number two, three and four become easier.
Find the right people and trust them: At Shear Madness Haircuts for Kids we call these people "charismatic connectors". They have the organizational skills, leadership skills and understand numbers - and the ability to manage multiple locations for you!
Make sure the numbers work: At our children's salons we have a number that tells us how many services a day you should do before you even think about opening another Shear Madness Haircuts for Kids salon. You should never move forward to opening another salon until you hit those metrics.
Know your customer: After your first location you should have a rock solid idea of who your customer is: where they live, how much money they have and WHY they are your customer. This should give you a blue print for your second location.
Never stop learning: They say in business that the only constant is change. Now more than ever that holds true. Ways of marketing change daily, customers are fickle, and brand awareness is vital. If you like a challenge, you should do well!
Owning multiple locations is an exciting way to build a future income stream for yourself and your family. Just remember one thing, business is a marathon and not a sprint!
The Shear Madness Franchise Advantage!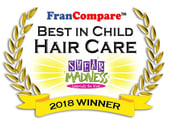 Shear Madness Franchising franchises Shear Madness Haircuts for Kids salons. We have worked with franchise stores in providing franchisee support (in order to encourage continual growth and business success), and have sometimes seen the unexpected happen! When it does, we help by identifying and helping with challengean help prevent these events as well. As many franchise owners may not have opened a business before, having someone who can advise them is a significant advantage of franchise ownership!
Are you interested in learning how YOU can join the Shear Madness Haircuts for Kids family and run your own successful small business? We are one of the fastest growing kids hair salons in the industry today! If you would like to learn more about this franchise opportunity or small business marketing, great marketing strategies, resources for small businesses, franchise success, how to grow your small business or how to become a successful owner of your own kids hair salon franchise business, please click below or call 1-888-98 GONE MAD!
Would you like to sign up for our Monthly newsletter? If so, click HERE!