Quality over

Quantity

when trying to build a business. There are many reasons to grow and expand, but here are some things to think about before you take the next step in expansion.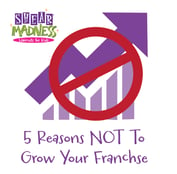 I know this sounds counter intuitive to every thing that you have heard about building franchise systems. Last week I wrote about my neighbor who had grown his two franchise systems to over 700 units. But there are times to step back and NOT grow your franchise business, here are the 5 top reasons
* Increased Risk - With growth becomes more financial obligations to both your businesses and your team. Build a cash flow model and make sure that your revenue can support the additional obligations that you will be taking on.
* Increased Workload and Stress - Growing a business is tough, on you, your teams, your family. It means working longer hours, bigger responsibilities, more complicated structure, more supervision and more complicated operations.
* Drop in Quality - Growth unfortunately can come with a drop off in service quality. You have worked hard to build up an A team, can you keep finding those A players while you grow that deliver that fantastic customer experience?
* Increased Cost - More revenue is almost always accompanied by increased expenses. Whether in time or money, growing a business will cost you. Financial planning is crucial.
* Loss of Direct Control - Taking on more staff, growing your customer base, extending your network of suppliers, will all put additional stress on your systems and processes. Being able to delegate duties to the right people and having them follow through may prove challenging.
Here's the bottom line, if you like to control every aspect of your business, have trouble delegating responsibility or you are not consistent in following your franchisors system's. It may be best to step back and NOT grow your franchise, at least until you feel comfortable that you understand what it's going to take to grow successfully!
Your Journey, Your Success!

Shear Madness Franchising franchises our award-winning Shear Madness Haircuts for Kids salons (FranCompare™ Best in Child Hair Care 2018). We have worked with franchise stores in providing franchisee support (in order to encourage continual growth and business success), and have sometimes seen the unexpected happen! When it does, we help by identifying and helping with challenges that might arise for franchisees. Additionally, we work to present options that can help prevent these events as well. As many franchise owners may not have opened a business before, having someone who can advise them is a significant advantage of franchise ownership!
Are you interested in learning how YOU can join the Shear Madness Haircuts for Kids family and run your own successful small business? We are one of the fastest growing kids hair salons in the industry today! If you would like to learn more about this franchise opportunity or small business marketing, great marketing strategies, resources for small businesses, franchise success, how to grow your small business or how to become a successful owner of your own kids hair salon franchise business, please click below or call 1-888-98 GONE MAD
Would you like to sign up for our Monthly newsletter? If so, click HERE!