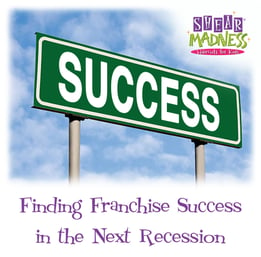 I recently attended a webinar with one of the largest franchising financing lenders in the United States. I would like to explain all the graphs that they showed us but the bottom line was this: all the signs point to the next recession hitting sometime in the next 24 months.
Credit Card debt and margin buying of stocks are back to record levels.
The small business optimism indicator is at record levels (this is a contrarian indicator).
Retail rents are at extreme levels causing over building, even though demand is decreasing for retail space!
But what I was most interested in was a chart of the top 15 franchises according to the SBA. I can't tell you those names, but what I can tell you is some commonalities they had.
Four of the top 15 were child related.
Most all were recession resistant.
At Shear Madness Haircuts for Kids we feel like we combine both of these traits. As most parents look at a haircut as a necessity and not an option, and a haircut will never be replaced on the internet! Parents will always spend money on their children. They will cut out a lot of luxuries and services for themselves, but never a service that makes their children look better and feel better about themselves!
Shear Madness Franchising
franchises
Shear Madness Haircuts for Kids salons
. We have worked with franchise stores in providing franchisee support (in order to encourage continual growth and business success), and have sometimes seen the unexpected happen! When it does, we help by identifying and helping with challenges that might arise for franchisees. Additionally, we work to present options that can help prevent these events as well. As many franchise owners may not have opened a business before, having someone who can advise them is a significant advantage of franchise ownership!
Are you interested in learning how YOU can join the Shear Madness Haircuts for Kids family and run your own successful small business? We are one of the fastest growing kids hair salons in the industry today! If you would like to learn more about this hair salon business opportunity or small business marketing, great marketing strategies, resources for small businesses, franchise success, how to grow your small business or how to become a successful owner of your own kids hair salon franchise business, please click below or call 1-888-98 GONE MAD
Would you like to sign up for our Monthly newsletter? If so, click HERE!