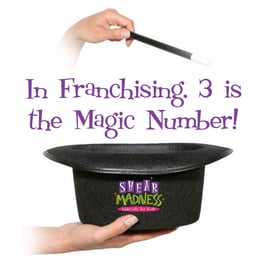 I often
get contacted by people who want to buy a franchise or business to be their own boss, take control of their destiny and live the American dream! Well, that's all well and good. But I'd like to take a moment and add a small bit of wisdom from one who has been there and has interacted with lots of people who who have also been there.
It takes time. Three years to be precise.
While some can do it a little faster and some might do it a little slower - on average it's going to take you about three years. If you were to pin me down, or get upset with me, or even tell me I'm crazy, I wouldn't mind. As a matter of fact, I
really
can't explain it other than to to tell you that after countless observations, research, and doing it myself, three years is about what it takes to create a business that gains enough traction for the owner to rightfully claim their business is on it's way to being successful.
So the bad news here is this: If you're going to quit your job, make sure that you have lots - and need I say it again - LOTS of working capital. Because you may have a long runway. The other option is to keep your job and run your business on the side. This option will test your business skill, your ability to manage and find the right people, and trust them.
The good news here is: owning your own franchise or business can allow you to be your own boss, allow you to control your own destiny and allow you to live the American dream.
But like I said, it's going to take you about three years to get there.
Shear Madness Franchising franchises Shear Madness Haircuts for Kids salons. We have worked with franchise stores in providing franchisee support (in order to encourage continual growth and business success), and have sometimes seen the unexpected happen! When it does, we help by identifying and helping with challenges that might arise for franchisees. Additionally, we work to present options that can help prevent these events as well. As many franchise owners may not have opened a business before, having someone who can advise them is a significant advantage of franchise ownership!
Are you interested in learning how YOU can join the Shear Madness Haircuts for Kids family and run your own successful small business? We are one of the fastest growing kids hair salons in the industry today! If you would like to learn more about this franchise opportunity or small business marketing, great marketing strategies, resources for small businesses, franchise success, how to grow your small business or how to become a successful owner of your own kids hair salon franchise business, please click below or call 1-888-98 GONE MAD
Would you like to sign up for our Monthly newsletter? If so, click HERE!