Kids and Parents Alike LOVE our Parties! If you are looking for a truly unique and special party experience, don't forget to check us out! Some of what makes our parties truly unique is our fun kid-friendly atmosphere, and our amazing Pink Starlets! These party experts (in groovy pink wigs of course) know just the perfect way to bring a smile to kids faces with great up-doos, glamorous "pretend" make-up, polishing fingernails and so much more! For more details, please click parties and make an appointment today!
Knock Your Locks Off For a GREAT CAUSE! Here at Shear Madness Haircuts for Kids, every child matters! That's why we love our annual "Knock Your Locks Off" event, which helps provide hairpieces to kids under age 21 suffering from long-term medical hair loss from any diagnosis. Scheduled for the weekend of October 12 - 14th (details vary by participating locations), Shear Madness locations will donate to Locks of Love or Wigs for Kids (click prior links for hair requirements)! Plus, participants will not only get a FREE Haircut by one of our Madtastic Stylintists who is donating her time, but also receive a keepsake certificate featuring a before and after photo! Check out the Shear Madness website for more information about this cool way to help others. And be sure to call for details and to schedule your appointment for this special occasion!

Look COOL for Back to School Pictures! Tired of that same old look whenever it's picture time? If so, try a new hairstyle at Shear Madness Haircuts for Kids! We've got awesome haircuts, jewelry items, fantastic hair care products, ear piercing and so much more! And don't forget, we also have a TON of cool hairbows to match any outfit, as well as great items for party gifts and much more. So make an appointment today to get ready to look and feel your best!

We Have the BEST First Haircut Packages Around! Does your little one need their first haircut? If so, you're in luck! Our package includes an appointment for double the time - to make it extra special! It also includes a before & after picture mounted on an 8 x 10 certificate printed with spot UV coating, personalized, dated, and signed, a lock of hair attached to the certificate, and a matching 5 x 7 certificate for grandparents, or any other "special" loved one! Visit us at Kids Haircuts for more details!
Help Us Make a Positive Difference!

Helping Kids and Their Parents in our Communities! Are YOU interested in making a positive difference in the lives of kids and their parents? If so, you'll want to discover all the helpful and exclusive information in our redesigned Franchise Toolkit! Discover what owning a Shear Madness Haircuts for Kids could mean for you and your community! Plus, if you're interested in our other free resources for businesses, check out our blog or call 1-888-98 GONE MAD!
Awesome Savings for September!

WOW! Incredible Savings! You're in luck this September, as we've put together some really cool coupons to help you save and look awesome for all your friends! For example, right now with coupon, Book a Party for 8 Guests, and the 9th is Free! Or how about Get 20% Off a Special Hairbrush - Knot Genie, Wet Brush or Dessata Brush (with coupon) (at participating locations)! Awesome! Don't miss out, and head over to our coupon page for this and many other cool savings!

COOL Crafts for Kids and Parents!

Monstrously FUN Crafts for all ages! Don't miss our fun Crafts for Kids section on Pinterest, where you'll learn how to make the fun and creative monster bookmarks at left! Plus, you'll also discover how to use building blocks to make cute little monster creatures, a train made from a shoebox, silly paperclip faces with crazy hair, handprint dinosaur art, do-it-yourself parachutes made from plastic cups and colorful jellyfish made from paper plates! Have fun, and have a great September!
Shear Madness Haircuts for Kids - Where Every Child Matters!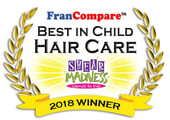 Shear Madness Franchising franchises Shear Madness Haircuts for Kids salons. We have worked with franchise stores in providing franchisee support (in order to encourage continual growth and business success), and have sometimes seen the unexpected happen! When it does, we help by identifying and helping with challengean help prevent these events as well. As many franchise owners may not have opened a business before, having someone who can advise them is a significant advantage of franchise ownership!
Are you interested in learning how YOU can join the Shear Madness Haircuts for Kids family and run your own successful small business? We are one of the fastest growing kids hair salons in the industry today! If you would like to learn more about this franchise opportunity or small business marketing, great marketing strategies, resources for small businesses, franchise success, how to grow your small business or how to become a successful owner of your own kids hair salon franchise business, please click below or call 1-888-98 GONE MAD!
Would you like to sign up for our Monthly newsletter? If so, click HERE!