It's true that Shear Madness Haircuts for Kids has experienced phenomenal growth over the last several years, and is opening up exciting new locations all the time. But we understand that there are still those folks out there who just don't know what our concept is about. So here is what Shear Madness Haircuts for Kids is, and how we make it our mission to truly be a place "Where Every Child matters!"
To start off with, Shear Madness Haircuts for Kids is a place where kid's haircuts are our specialty. One thing we're known for is the fun vehicles that kids can sit in when they get a haircut. And while these cool cars, trucks and airplanes are a great way to stimulate imaginative play, we also provide televisions and game consoles so that children can have fun experiences (and not just be staring off into space) while they are getting their fantastic new hair style. But we also understand that some of our customers may be older kids or adults too, so we of course have normal chairs along with televisions and game consoles to interact with (if they so choose) while getting a haircut.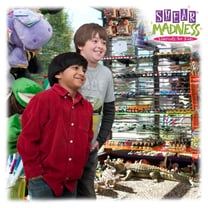 Shear Madness is also known for it's fun and memorable environment. From the moment a child and their parent walks into one of our stores, they know they've entered into a unique place where kids feel special. With happy kids music playing in the background, cheerful staff, brightly colored mirrors, cool lights, the afore-mentioned vehicle chairs, and stylish graphics on the walls, it's hard not to feel like you've entered into a totally new and wonderful kind of magical kids realm!
Plus, when you visit one of our locations, you'll definitely have a blast shopping (and playing) in our award-winning YOUniquey Boutiquey! We have tons of great kids retail gifts for birthdays, holidays, or just because. Everything from diecast toy cars, airplanes and trains, to stuffed animals, action figures, toys for imaginative play, dinosaurs, educational games and books, and so much more. And don't forget to check out our amazing selection of jewelry and kids hair care products! Our fantastic bow wall is also a fun sight to behold, as we have a HUGE variety of hairbows in all shapes, sizes and colors! Wow!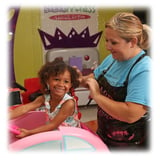 Another great thing about Shear Madness Haircuts for Kids is the many different services we offer to kids and their parents. We love helping kids look and feel their best through great kids haircuts, but we also offer an amazing ear piercing experience where kids can get both ears pierced at the same time and get treated like a star! And if that wasn't exciting enough - at our La De Da Spa, we also offer fun manicures and pedicures for kids! It's just so cool to see all those smiling little girls in spa robes having the time of their life! First Haircuts are a special time as well, as we roll out the red carpet for this fun event in life with a special certificate, before and after picture and snippet of their hair.
Our Parties are also a fun aspect about Shear Madness Haircuts for Kids that many kids and their parents absolutely love. Pink Starlets (girls with pink wigs and aprons) whip up a fun updo, fancy nails, glittery makeup and glitter tattoos for each guest - and karaoke is enjoyed! Some locations welcome boys with super hero parties! All locations take a memory group photo for the Birthday girl to take home. With a Shear Madness Party, we take pride in working hard to help make your special occassion even more special.
Would you like to sign up for our Monthly newsletter? If so, click HERE!
Are you interested in learning how YOU can join the Shear Madness Haircuts for Kids family and run your own successful small business? We are one of the fastest growing kids hair salon franchise systems in the industry today! If you would like to learn more about small business marketing, great marketing strategies, resources for small businesses, how to grow a small business, or how to become a successful owner of your own kids hair salon franchise business, please click below or call 1-888-98 GONE MAD