Saying YES to the franchise. It takes a lot to say yes a franchise, and we don't blame you. It's a huge decision that takes so much time and careful consideration. But how do you know that it is time to say YES?! We have some tips on when you know you have found the franchise for you!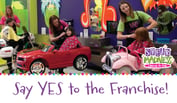 Someone who was looking for a franchise asked the question that everyone eventually comes to recently asked me. When do I move forward? First of all I congratulated them for getting to this point! Franchise ownership is a great way to build wealth and gain financial independence. I answered them by giving them some reasons to NOT move forward with a franchise, here are some of those reasons.

Questionable Profitability - Did you know that the FTC does not monitor or audit the Financial Performance Representation (FPR) of a franchise? If the numbers just don't add up or the Franchisor can't give you a satisfactory answer about the numbers in the Item 19 then you should probably look elsewhere. To complicate this issue more, many franchisors don't even provide numbers in their Item 19. Can you imagine buying an existing business from someone and them not providing you numbers?

High Start Up Cost - If the cost to start up a franchise is really high compared to what you can earn on the bottom line that would be another red flag. This is most commonly referred to in franchising as the Asset to Income ratio or ASI. I have seen franchises that can make $100,000 with an investment of $50,000 and franchises that cost a million dollars to build out that only make $50,000. You do the math.

Unfair Termination - I was recently reading an FDD and if the franchisee did not hit certain sales numbers after three years of operation the franchisor had the right to take over the location. You see these unfair termination clauses sometimes and the franchises that have them should be avoided!

Inflated Prices on Supplies - I recently visited with a franchisee next to one of my Shear Madness Haircuts for Kids salons; he had invested in one of the most popular fitness franchises out there today. When I asked him how it was going he said, " Man, they are charging me a fee for everything I order from them!" Most franchises provide you there own proprietary supplies. This can be a good thing and one of the reasons that you bought a franchise. You get to use there Trademarked items, proprietary systems and branding. Where the issue arises is this can be a major profit center for the franchisor and some franchisors markup these items to a point where it can dig into the franchisees margins. Make sure you understand what you have to order from the franchisor. It should be defined in the Franchise Disclosure Document (FDD).

Moving forward with your franchise of choice should be an exciting time for you and your family. One of the things that will make it all the more exciting is knowing that you have done your due diligence and are comfortable with how your franchisor runs the franchise system. Making sure you have a handle on these four items is a good place to start.
Make a Positive Difference TODAY!

Shear Madness Franchising franchises our award-winning Shear Madness Haircuts for Kids salons (FranCompare™ Best in Child Hair Care 2018). We have worked with franchise stores in providing franchisee support (in order to encourage continual growth and business success), and have sometimes seen the unexpected happen! When it does, we help by identifying and helping with challenges that might arise for franchisees. Additionally, we work to present options that can help prevent these events as well. As many franchise owners may not have opened a business before, having someone who can advise them is a significant advantage of franchise ownership!
Are you interested in learning how YOU can join the Shear Madness Haircuts for Kids family and run your own successful small business? We are one of the fastest growing kids hair salons in the industry today! If you would like to learn more about this franchise opportunity or small business marketing, great marketing strategies, resources for small businesses, franchise success, how to grow your small business or how to become a successful owner of your own kids hair salon franchise business, please click below or call 1-888-98 GONE MAD
Would you like to sign up for our Monthly newsletter? If so, click HERE!