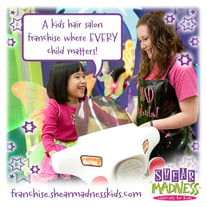 Do you have the three "must have" business skills for franchise owners? Many people that contact me are "romantically" attracted to our concept. They love the idea of a cute, fun and brightly colored place to take kids for a great haircut. Or I hear, "I love children, so I was really attracted to this." However, it is a business! To succeed you need skills too! Interested in learning just what those top 3 skills are? Find out by reading here!
Meanwhile, if you'd like to read about a variety of other subjects related to franchising and the successful operation of a small business, please click on Shear Madness Franchising Blog or check out some of the latest articles below!
Turn your Dream into Reality! Are you or someone you know interested in learning more about how to become a successful owner of your own kids hair salon franchise business? If so, please click "franchise opportunities", call 1-888-98 GONE MAD, or download our FREE Franchising Toolkit at the link below!
We sincerely hope you've enjoyed our July edition of the Shear Madness Blog Digest. As always, if you should ever have any questions or articles that you might like to see us to discuss in our blog, please don't hesitate to call or write us an e-mail. We're having a great day, and we hope you have one too!
The Shear Madness Team